Google Reviews From Our Patients
Andrew Rowe
12:49 27 Feb 21
Good service and pleasant staff.
Nils Pettersson
10:19 24 Feb 21
Waltham Abbey Opticians thank you! My first visit Ash did a thorough eye check, referred me for cateracts immediately.

I am extremely satisfied with the service and due to her speedy referral i might not even need glasses.Thank you all at Walthan Abbey Opticians!!

read more
Tasoulla Christoforou
18:31 12 Dec 20
Very happy customer had a very good helpful service would recommend this opticians to my family and friends
Chris Anderson
07:46 24 Oct 20
Amazing service and after care!Very impressed.Thank you
I've been bringing my daughter here for a while as they have the best kids glasses selection of about 10 opticians I

visited. But mainly we come back because the service is 5*. Ashley is fab with kids and goes above and beyond every time. I recommend to everyone!

read more
Rebecca Pearce
15:53 19 Mar 20
Have been wearing glasses for over 20 years and this was by far the most positive exsperience that i have had in an

opticians in a long time. I went in there looking for sunglasses, safety glasses and normal glasses all in my prescription. I had fairly specific requirements for each pair in terms of what they were for yet everything went smoothly and i got everything i needed. They took me through all the options in detail for different finishes ect but never pushed anything on me. They made it really easy to decide on what i needed rather than what was most exspensive. The advanced eye test that they carried out and subsequent updated prescription really made a huge difference straight away aswell. It just felt right in a way that i hadnt really ever felt before at other opticians straight after recieving my new prescription. Its genuinely made my vision feel rejuvinated and less frustrating in day to day life. So yeah was very pleased over all with my new prescription. AO stayed in contact to give updates on my orders and were easy to talk to, proffesional and helpful from beginining to end. I was buying some glasses with Oakley frames for example and was easilly able to communciate between oakley via the opticians if I had any questions about the lenses or frames. I was even able to talk directly to an Oakley representative whilst they were visiting the shop. Last but not least 'AO' also have some wonderful deals on most of their different ranges of glases, which was a huge bonus and made the exspereience even more enjoyable. So in conclusion, as you have probably guessed , I would like to thoroughly reccomend this opticians and once again thank all of the incredibly kind and helpful staff there for their time and helping me sort my new specs out. 🙂

read more
Laughing Man
17:28 05 Nov 19
I was seen by Ashley earlier this year who provided me with help and guidance on choosing a pair of glasses that suited

me. She was honest, polite, trustworthy and professional. I would definitely recommend Ashley if it's a good service you are after.

read more
Very friendly and knowledgeable staff and excellent service. Eye tests are very thorough and nothing is too much

trouble. Highly recommended!

read more
Lee Luther
17:50 19 May 19
DiamondzPlayz_ YT
14:12 11 Apr 18
After having a disastrous time with the competition up the road I decided to return to where my history/records are.It

was the best thing I could have done!!I now have the correct prescription and perfect vision again.I can't praise Ashley and the staff highly enough for their patience and professionalism.Highly recommended.

read more
john owers
15:37 27 Sep 17
Here I had a help for my mum 74 years old and my daughter 7 years old. They are perfect with everybody. Nice and quick

service, mum glasses were ready in just two days. Yes two days.... Thank you

read more
Always a great service. Friendly, helpful and supportive team. I don't like having my eyes tested but they just make it

so easy. Thank you and see you next time! 🙂

read more
Zena Christoforou
15:09 07 Oct 16
Excellent opticians! Great service and always very accommodating to both me and my daughter. Many thanks to Ashley and

the rest of the Waltham Abbey team.

read more
Kate Shirley
17:34 01 Oct 16
I recently visited Waltham Abbey Opticians with my mother. They gave us great advise with detailed examinations. The

service we got was excellent , the staff were very friendly and helpful. Thank you for a delightful experience.

read more
Workneh Hailegiorgis
23:46 25 Apr 16
After having a very thorough eye test I was told that I needed verifocals. The friendly staff helped me choose a pair

of frames. I was a bit concerned that it would take me a while to get used to my new glasses, but much to my surprise, as soon as I put them on I could see and read perfectly. Thanks to the accurate measuring of my eyes using new technology.The staff were always very helpful, friendly and professional ! Thank you !!!!

read more
Louiza Abbott
07:13 13 Apr 16
Ashley was extremely helpful and friendly! I felt at ease from the moment I entered the opticians to the moment I left.

I wouldn't hesitate to recommend Ashley at 31 Sun street to anyone! Thanks again 🙂

read more
Get Social with Us at Waltham Abbey Opticians!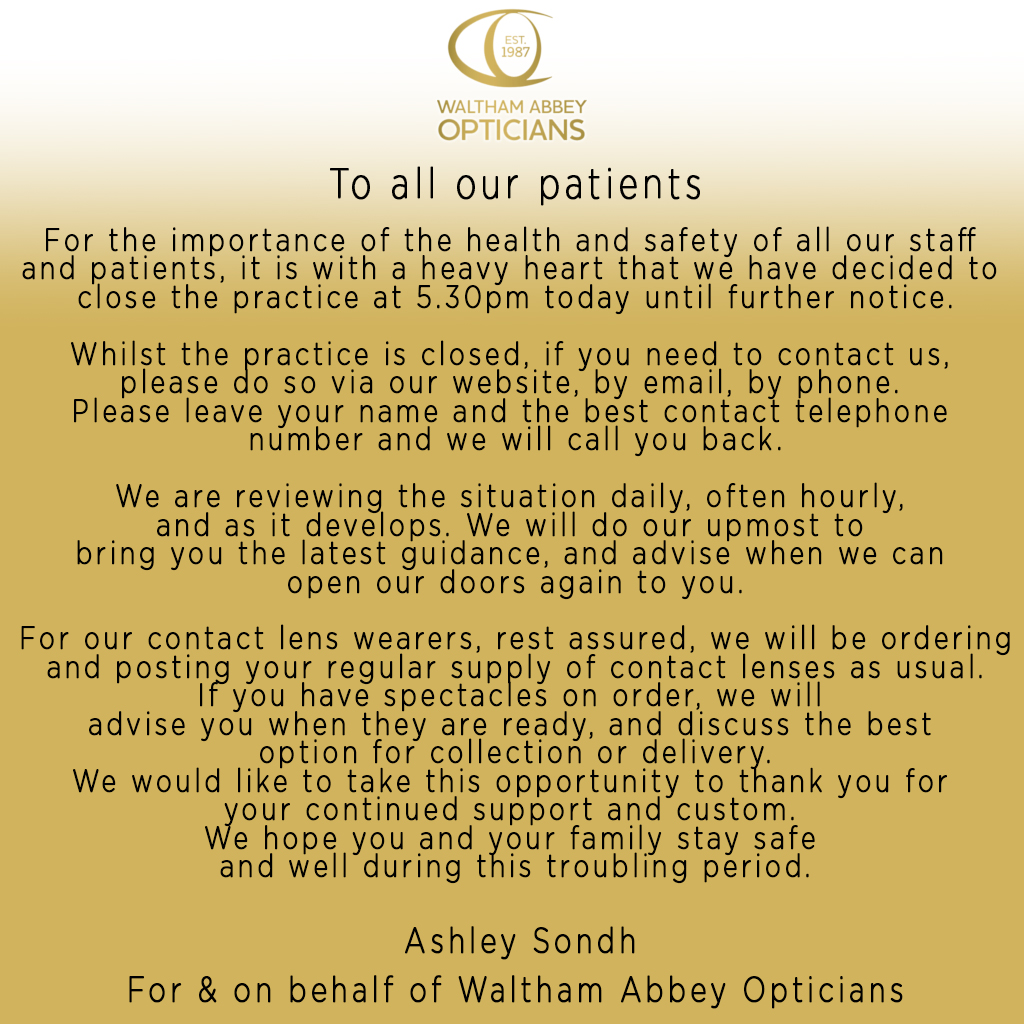 @31sunstreet